El guionista Benjamin Percy estará a cargo de este título que incluirá dos entregas e historias en las series regulares de Logan y Johnny Blaze.
Dos populares personajes de Marvel Comics tendrán una aventura en conjunto en el nuevo crossover de la editorial y es que esta semana se anunció a Weapons of Vengeance, una reunión de Wolverine y Ghost Rider.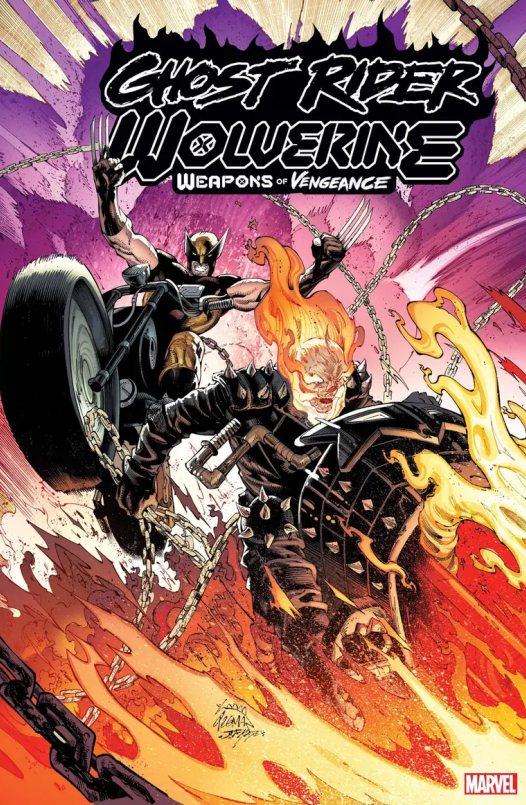 Weapons of Vengeance reunirá a Logan y Johnny Blaze en una historia escrita por Benjamin Percy e ilustrada por Geoff Shaw donde no solo se explorará una nueva aventura de ambos personajes en el presente del Universo Marvel, sino que también se relatará cómo fue su primer encuentro.
Con ese objetivo Weapons of Vengeance abarcará cuatro números: Ghost Rider/Wolverine: Weapons of Vengeance Alpha, Ghost Rider #17, Wolverine #36 y Ghost Rider/Wolverine: Weapons of Vengeance Omega.
"Esta historia—Weapons of Vengeance—no solo une a Logan y Johnny en el presente, sino que también cuenta la historia de su primer (¡nunca antes visto!) primer encuentro", dijo Percy. "Aquí están las notas rápidas y sucias: cuando Wolverine investiga la posibilidad de un nuevo programa Weapon Plus, uno que experimenta y se especializa en el arsenal del Infierno, se ve reclutado como arma de venganza. Y el único capaz de detenerlo es Johnny @#$%& Blaze. Acelera tus motores, abre tus garras".
Ghost Rider/Wolverine: Weapons of Vengeance Alpha, el puntapié inicial de este crossover, será publicado en agosto.